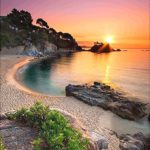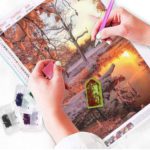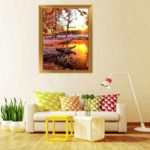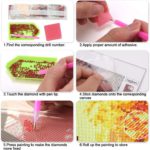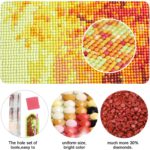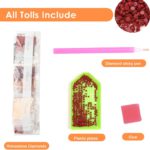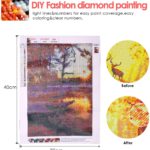 Sun Ocean Diamond Painting, 3D Flash Drill Crystal Paint-by-Number Kit Point Pen, Drilling Plate, Cement, Self-Sealing Bag Embroidery Crafting Diamond Picture Home Decoration 12 by 16 inch (jh453)
$12.99
【CLEAR CLOTH BASE】What we delivered you is not a finished picture but a complete set of diamond painting tool. In order to successfully DIY the shining and delicate diamond painting that satisfies yourself, we provide you with a high-definition colorful cloth base. Each part can clearly guide you to place the diamond correctly.

【SELECTED DIAMOND】Each optimal colorful round diamond has 32 cut facets, and each facet reflects different shine, in this way, your final work can be vivid and radiant. The color of each diamond is durable and got no fading. Even if your work hangs in your room for a long time, the embroidery diamond picture still looks like the just finished one.

【EASY CRAFTING】Our designer has made detailed marks on the proper location of each color. Just follow the instructions, and you will definitely get a perfect diamond painting. The glue in the diamond painting kit can tightly stick the diamond to the cloth base without repeatedly pasting.

【EMBROIDERY DIY JOURNRY】The diamond cross stitch pattern is very popular among people. When different facet is reflecting the natural light, the overwhole diamond painting will become dazzling and shining. The process of making handicraft will cultivate your patience, and when you finish the diamond cross stitch pattern, you'll gain a sense of accomplishment.

【COMPLETE SET OF DIAMOND PATING】What can you get from our package? A point pen, drilling plate, cement and self-sealing bag. You don't need to buy other tools for your diamond painting. As a result, the crystal paint-by-number kits can be a perfect and meaningful gift for your family and friends.